We are West Linn's Premiere Pilates Studio since 2007! Owner, Clare Baxter, loves teaching Pilates and has been doing so for over 15 years. Your first class is FREE when you "LIKE" us on FACEBOOK.  We offer PILATES REFORMER, YOGA on the REFORMER, PILATES MAT classes, and PERSONAL TRAINING.  We are located in the historic Willamette area.
Just call 503-869-8295 or e-mail clare@flourishpilates.com to confirm a space in class.
Joseph Pilates suggested practicing at least 3 times a week.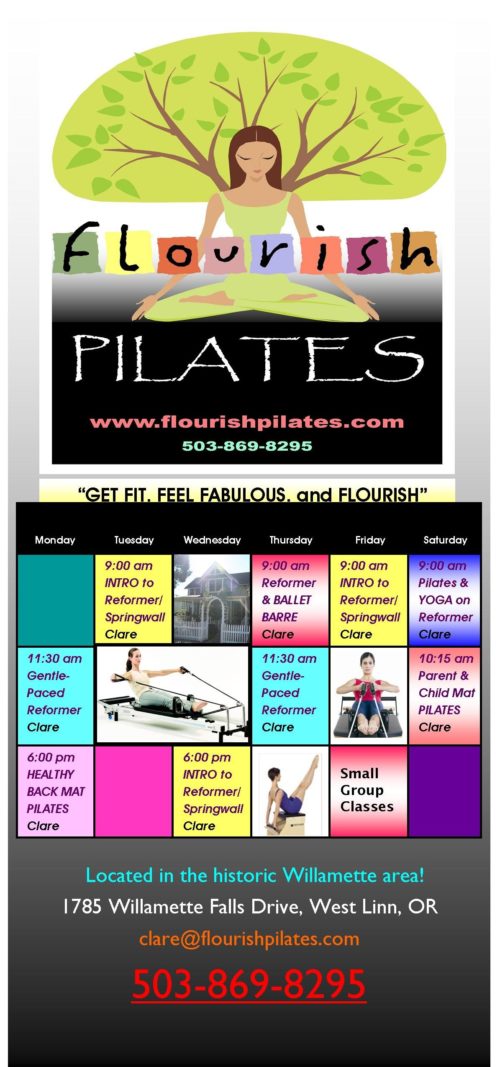 FALL term runs from Wednesday September 6th – Saturday December 23rd, for 14 sessions, spanning 16 weeks. * There is no class/charge October 11-17 and no class/charge Nov. 22-26. There is no class/charge Saturday Sept. 16th (now Oct. 30th) & Oct. 14th Oct. 28th & Nov. 25th & December 9th, and the Saturday class runs for 11 sessions.
Winter term starts at 6 pm Jan 1st – April 30th. There's no class/charge January 13- January 14th (there is class on MLK Day). There's no class/charge for evening class on Monday Feb. 5th. There's no class/charge on Monday March 19th and Tuesday April 3rd. There's no class/charge from March 24- March 31st for spring break. Classes run for 16 weeks. Tuesday class runs for 15 weeks. Saturday class runs for 14 weeks.